This evidence synthesis has been compiled by members of the CITF Secretariat and does not necessarily represent the views of all CITF members.
By Mariana Bego 
A little humour to get us through
The COVID-19 pandemic is no joke.  We get that.  But at the same time, in highly stressful times, kindness, humour and courtesy can help us pull through. Different resources can be  use to face this new taxing and unexpected situation, from exercise, reading, art, music, cooking, meditation and mindfulness. Humor was always considered as a strategy to keep things in perspective, deal with the seriousness of the situation and make the day-to-day more bearable. Brian Callender and his colleagues explored what they defined as the visual content contagion in times of COVID-19 in an article published in The Lancet. The authors reflect on the role of comics and other graphic content as part of medicine, taking a historical perspective and arriving until today's pandemic. They suggest that comics provide valuable contributions to the outbreak narrative and to the evolving visual culture of this contagion. We decided to enrich our Newsletter with some comics as well!
Callender B., Obuobi S.,  Czerwiec M.K.,  Williams I.. COVID-19, comics, and the visual culture of contagion. Lancet. 2020 Oct 10;396(10257):1061-1063. doi: 10.1016/S0140-6736(20)32084-5.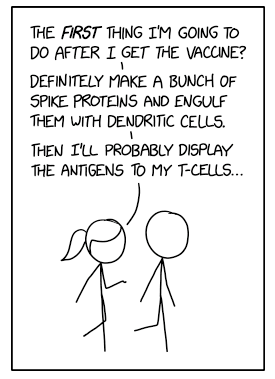 Source: https://xkcd.com/2404